To entertain and educate growing minds.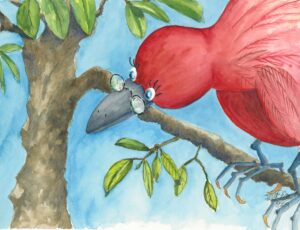 Mister Figg is a children's author from South Florida. Whether it is an adventure in a backyard or set in fantasy, his stories usually take readers away from the everyday world. His goal is to always create a story that is entertaining while providing a lesson or two. Mister Figg is a former high school Language Arts and Journalism teacher. He previously served on the Board of Directors for the South Florida Writers Association.
Mister Figg is an independent member of both the Society of Children's Book Writers and Illustrators as well as the South Florida Writers Association. To get more information about these associations, please click on the logos to be redirected to their websites.
Susan McClellan - Illustrator
Susan McClellan is an artist from South Florida. Having moved to Plantation with her family at three and a half years of age from Baltimore, Maryland, she considers herself an "almost native" to South Florida .  She has a Bachelor's in Design and Master's in Architecture from the University of Florida in Gainesville.  Today, Susan is a practicing architect and interior designer in Fort Lauderdale.  Watercolor has been one of the mediums she continues to use in her practice. She does many historic preservation projects utilizing watercolor. Her love of history and its details also has led her into drawing renderings for books on local people and history.   As a big believer in "giving back", Susan has volunteered on city advisory boards and committees, lending her professional expertise where it is requested. She is an active member of the Gold Coast Watercolor Society. For more information about them, visit their website at https://www.goldcoastwatercolorsociety.com/.
Rita Fidler Dorn is a Native New Yorker who grew up in Ohio before she became a long-time Miami resident. Rita is a visible figure on the academic and creative scenes. She is a creator and facilitator of writing workshops for creativity, forgiveness, grief, and poetry construction. Rita is an English professor at Miami Dade College and Florida International University, and a former journalism teacher and news reporter. She has a BS in education from Ohio State University and MA in English from Florida International University. Rita is an active member and serving Board Member of the South Florida Writers Association. She is also a published writer of poetry about animals, nature, love, conflict, weather, colors, food, cities, and social commentary – serious and light, personal and global. Being a grammar guru and word game addict are among her personal joys. For more information about Rita, please visit her website at https://www.rickidornpoetry.com/.